IS HAS BEEN A WILD RIDE!
DAWN KADISH RETIRES FROM CDDA 
It is with a heavy heart that I announce that I have decided to step down from my position with the CDDA.  I have wrestled with this decision for quite some time now. I have met some amazing people over the years and it has been exciting to watch the sport evolve and to see how competitors have grown into world class athletes.  It has been amazing to see an organization that started with just an idea, when the sport of disc dog was basically unknown in Canada, grow to be a National organization. 

It is heartbreaking for me to step away from the CDDA as co-founder of this organization.  I remember the early years when we were constantly handing out pamphlets and trying to explain this sport to those that had never heard of it.  We had booths at trade shows, we did demonstrations anywhere and everywhere!  We did clinics and spoke at dog clubs.  We wrote articles for both lay magazines as well as dog magazines and newspapers.  We sourced small discs when there were none to be found.  We developed the rules and titles and cheered when each milestone was reached.  It has been fun to see records being set and smashed. 

I have done what I can to nurture the CDDA from infancy and it has been an incredible ride to see it grow.  This is what makes it so difficult to leave.  I feel a real responsibility to serve those that have given so much to support that CDDA and have helped it grow to the going concern that it is.  We built this organization so that Canadians would have a Canadian organization where they could come out play with their dogs and strive for titles and records.  From the first day when the CDDA was formed I have had three children. While this position has been exciting and interesting it also is very time consuming and demanding.  

I now have two teenagers and a 9 year old and I have to set priorities. My children and my own animals need to be bumped up the ladder and stop playing second fiddle to other commitments. I have to accept that I am only human and that there are only 24 hours in a day. I have committed a huge amount of time to the CDDA over the past 15 years as a volunteer and it has been worth it, but now it is time for me to step down.

I want to thank everyone who worked hard to host amazing trials over the last 15 years, those that have come up with great ideas and have helped the CDDA evolve.  Those that have worked tirelessly to promote the sport of disc dog in their area.  Those that have become judges and have committed to making trials fair and fun.  And of course those that have competed with their dogs and done so well and those that have been so supportive of the CDDA.  We could never have done any of this without you.  I also want to acknowledge the very first CDDA registered dogs.  I believe that all of these dogs are now gone, but they are not forgotten!  Thank you to Zac, Q, Shasta, Checkers, Diamond, Tango, Gus, Zip, Oscar, Laser, Tasha, Thumper, Reese, Molly, Starbug and Oakley!!  Thank you for taking that leap of faith and trying something new.  Thank you to everyone that has made the past 15 years a crazy roller-coaster ride.  Please throw a disc to your dogs for me!

Dawn Kadish
CDDA Director and Co-founder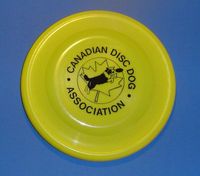 The Following Requests have been received:

Application to Approve New Discs:

SuperAreo
SofFlite
Details
Hero SuperAero 235 - http://www.herodiscusa.com/hero-super-aero.html   the first generation Super Aero disc is a standard disc that weighs less than 115g, however the 2nd generation disc is 117 to 121g which makes it over weight for a standard disc.  Due to the issue that first and second generation discs would be hard to tell apart at a trial and that one would be over weight and that there are similar type discs that are already on the approved list it was decided not to put it forth as an approved disc.
Hyperflite SofFlight Disc - http://hyperflite.com/sofflite_disc.html  This disc is made of a softer material that may benefit dogs with more sensitive mouths.  It weighs 105 g and is 8.75" which would make it a standard disc.  This disc conforms with the standards and may be beneficial to dogs with soft mouths.  This disc will be put forth as a candidate for the approved disc list.
A further request has been received to consider an overhaul of the approved discs and this will be put on the agenda for the year end meeting
Please send comments to the CDDA via the
"contact us" link
Requests for Rule Changes
2 requests have been received to change the following section of the following rule:
Section 2  OFFICIAL CLASSES
 2.6    FURTHEST CATCH RULES AND GUIDELINES
  - No modifications may be made to the disc.
Details
The reason for the rule change request centres around what constitutes "modified" and whether this can be interpreted in many ways.
1. The request asks that the word modified be left as is and specific modifications that are allowed be added.  For example allowing the following - markings on the disc for identification or to allow better visualization by the dog.  The markings should not change anything other than the look of the disc.  Marking cannot be offensive to the average person (obscenities,  swastika, etc.).  Any competitor that has concerns whether a modification crosses the line should check with the presiding judge before using the disc in competition.  Further that the rule requiring the disc not to modified should also be in the section that lists the approved discs so that it applies to all classes and is easier for competitors to find.
2. The request asks that the word modified be better defined to refer to flight properties such as weight, texture, shape or anything that affects aerodynamics.  It further requests that specific modifications such as markings on the disc (specifically water based permanent marker) be allowed. There are concerns that normal wear and tear on the disc could be considered "modified"
These requests are posted for comment.  Please send you comments to the CDDA via the
"contact us"
link 
This item will be on the agenda for the year end meeting.  All CDDA judges will be contacted in the next few weeks and will brief all competitors before Furthest Catch at each trial to define what a "modified" disc is. 
Rule Changes  2013

There have been some changes to the Regional and National Championship  rules for 2014.  These changes mainly affect the mini dog dog division, but there have also been some changes to the eligibility for the Nationals that open it up to allow more participation.  These changes can now be found on the "Nationals" page.
EN FRANCAIS
There are several rule changes in the works for 2013.
These rules will take effect January 2013


The
2012 CDDA Rule Book
is available
Join our Facebook Page (Canadian Disc Dogs) - this page is used to announce updates

ADVANCED FREESTYLE DISC CLASS

As of January 1st 2013, this is an official class, however, since it may take a bit of time to for all of the judges to become familiar with the new rules it may not be possible to offer this class in all regions immediately.  Hosts that wish to hold an advanced class should discuss this with their judges before offering the class.


POINTS AND TITLES NOW AVAILABLE ON-LINE
To find your dog's results go to "Trials" and click on trial results. There you will find your dog's current point and title as of the last trial date on the top of the document. We will try to keep this as current as possible, but it does take some time for results to come in from trials, be processed and then posted on the website so please be patient.  We endeavor to have  results posted within 8 weeks of the trial date.
JUDGE'S PROGRAM


We are looking at a new program of continuing education for all CDDA judges and further judging requirements to ensure consistent judging across the country.


OFFICIAL DISC CONTROVERSY -

UPDATE - Dec. 9, 2012




We have discovered an inconsistency with some of the disc types.  The Innova Hero: 215's: Sonic, Super Sonic, Sonic Xtra are listed as accepted discs in the 115 gram and under class.  The Super Sonic discs are, however, 120 +/- 2 grams.  Which makes them overweight for the standard disc class.  No action will be taken on this matter in 2012.  However, for 2013 we will be reviewing the status of these discs.

Since the Super Sonic discs do not conform to the weight class they will be removed from the approved list as of January 1, 2013.  Any distance records set with these discs will stay as a stand alone record for distance with a 120 gram disc.  All records as of January 1st, 2013 will only be for the official CDDA Furthest catches using an approved disc under 115 grams.
QUALIFYING RIBBONS

We are looking at the current practice of the CDDA providing qualifying ribbons to CDDA trials.  Currently the ribbons are distributed to the judges which provide them to the trials that they judge.  This is not a very efficient procedure.  We are looking at having the host clubs provide qualifying ribbons.  The ribbons could either be provided with the trial kit, or we could make it optional.  Hosts could provide their own qualifying ribbons or get them from the CDDA at cost. 

We are currently looking for feedback on this proposal especially from trial hosts and judges.

rule will not affect the junior handler program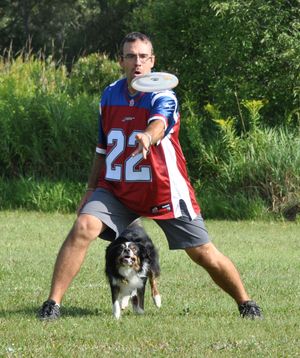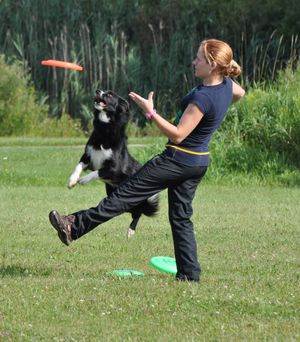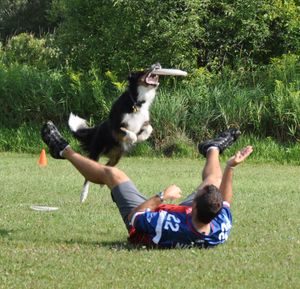 .