What is a Disc Dog Trial?
EN FRANCAIS


Disc Dog trials are a fun way to compete with your Frisbee loving dog!  Through competing you will meet lots of friendly people with great dogs.  There is a wide range of skill and levels of experience at each trial.  So everyone will have a great day.  Have fun cheering each other on and learning new ways to improve your skills.  


In the Canadian Disc Dogs Association (CDDA) trials there are four main events:

RPT (Retrieval Proficiency Test)
Single Disc (sub divided into regular and mini and novice and advanced)
Freestyle Disc
Furthest Catch


The Retrieval Proficiency Test (RPT) 


The first stepping stone. Your dog must pass an RPT to go on to the other events and collect points.

The RPT is a simple retrieving test. Your dog may retrieve any object (your choice). You stand in the "handler's box' which is a square that is 6 feet by 6 feet. You may not leave the "handler's box" . You throw your object 10 yards or more and send your dog to retrieve it. Your dog must retrieve the object and return it to you or drop it within the handler's box. Your dog only has to do this successfully once and he will have passed his RPT and will earn a certificate and be able to go on to compete for points and titles in all of the other events.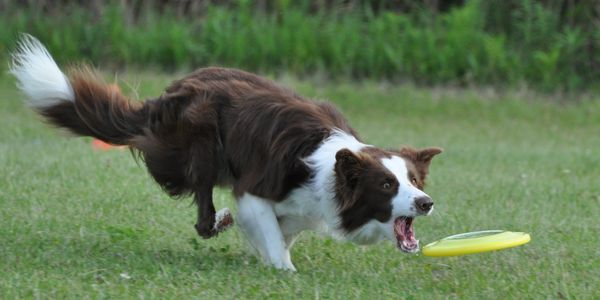 Single Disc


The most popular event. In this event you have one official Frisbee and two one minute rounds to get as many catches as you can.
The field is divided with the following yardage lines:
0 yards
10 yards
15 yards
20 yards

For each catch your dog makes you earn points:

1 point for over 10 yards
3 points for over 15 yards
5 points for over 20 yards

If your dog has all four feet off the ground at the time of the catch (getting air) you earn an extra bonus point for that catch.
All you points are added up for the two rounds for your overall score. Points are tracked and titles are awarded when certain numbers of points are earned. You also can earn proficiency titles in single disc.
You will earn a qualifying leg if your dog catches the disc over the 20 yard line four times within the first seven throws.
Once you earn 4 legs your dog is awarded the Basic Disc Dog (BDD) title and moves up to Advanced.

No food or other toys are permitted on the green. Fouling the green will mean elimination for that round specific round.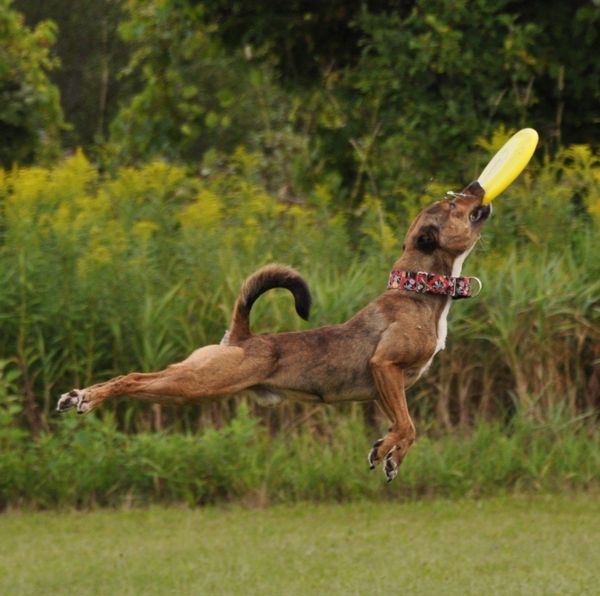 There is also a mini division for dogs under 15 " tall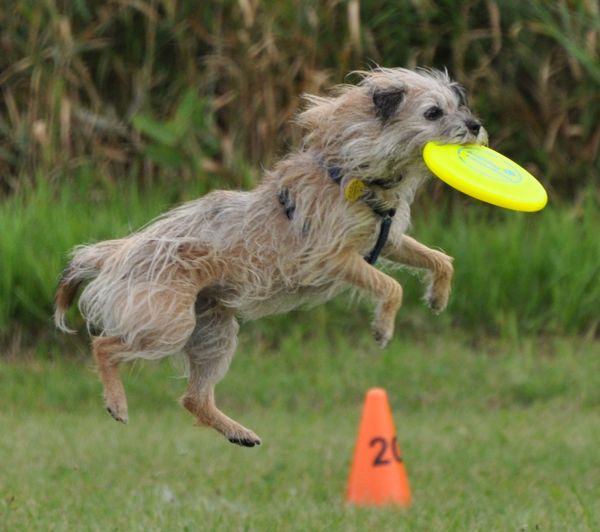 And a Junior division for kids under 13 years old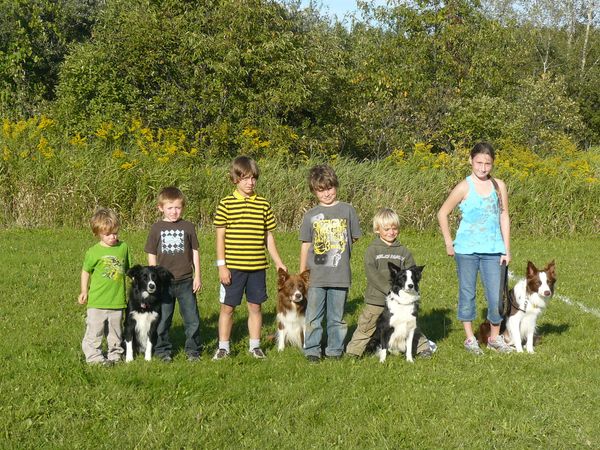 Freestyle Disc

In a nut shell, freestyle disc is a 90 second routine of tricks and disc catches to music.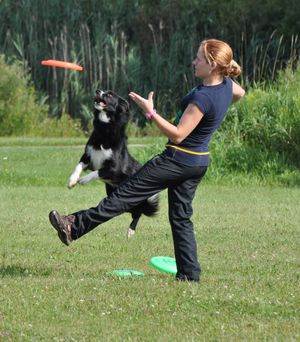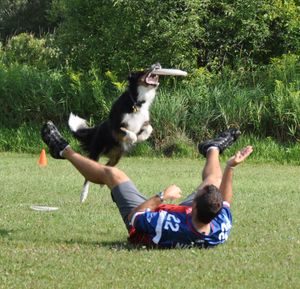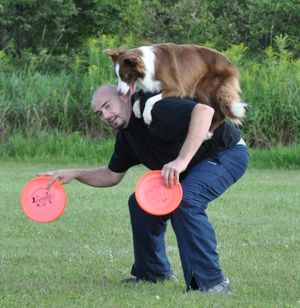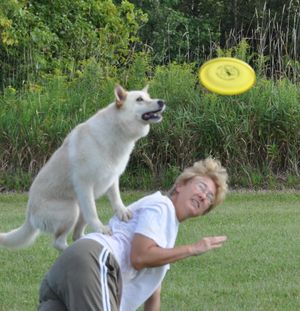 Furthest Catch
Furthest Catch is almost self explanatory.
You get three opportunities to the throw the disc as far as you can and have your dog catch it.
There are Bronze (catches over 100 feet), Silver (catches over 150 feet) and Gold (catches over 200 feet) levels to achieve.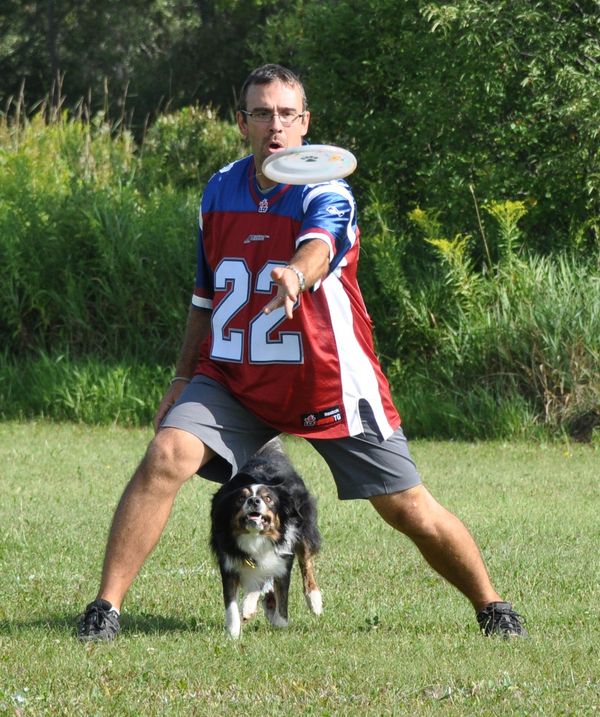 Other basic rules
:
Only Official discs can be used.
There is a junior division for children under 13 yrs of age.
All dogs must have a CDDA competition number to compete.
All breeds and mixes are welcome